The newly introduced Azure Plans model provides a "New commerce experience in CSP" according to Microsoft. To better understand what this means for direct Azure CSP resellers, we've highlighted the 5 most important topics that could affect billing use cases.
#1 - Invoice Date & Invoice Period Changes
Azure subscriptions that are provisioned inside an Azure plan, will normalise all Azure billing periods going forward to allign with standard calendar months. Additionally, the invoice date for these invoice periods will always be on the 8th of every month and availble the Azure billing API at midnight UTC. This means when a partner enables Azure Plans for the first time during any given month (i.e. on the 15th of April), and Azure consumption is being generated for this day onwards, the partner will receive its first invoice on the 8th of May for the previous month. Since the Azure Plan was created on the 15th of April, the first billing period will be April 15th - 30th:

From this point forward the reseller will always be invoiced on the 8th of every month for the complete previous calendar month (meaning: from the first date to the last day of any given month). This is a welcome improvement for Azure CSP partners, because Microsoft was previously using a vast amount of different billing periods which made it hard to integrate into an already existing managed, hybrid- and/or multi-cloud offering because of billing period related challenges.
#2 - Azure Master Rate Card in USD
Although Microsoft still provides billing lines in local currencies (i.e. EUR, GBP, etc) these are now based on a master rate card which is USD only. Conversion to local currencies is done by using the exchange rate of the last day of the previous month. Should you receive your Microsoft Azure CSP bill in Euro's, then your bill of May will use the USD to Euro exchange of April 30th COB. To achieve this, Microsoft uses the currency exchange rate feed from Thomson Reuters.
#3 - Rebates using Partner Earned Credits
With Azure plans it won't be financially attractive to resell Azure service without offering managed services. With the introduction of Azure Plans, Microsoft will charge a partner with Pay-as-you-Go rates, and therefore no discounts are to be considerd for the reseller. Using this approach Microsoft is trying to encourage resellers to offer managed services to their tenants.

Only when the reseller has 24x7 access to the Azure management interface of a Tenant, he will be eligible to receive Partner Earned Credits (PEC). These PECs will show up as seperate rebate line items on the partner invoice. How much rebate a partner receives varies per meter and agreement.
#4 - Multiple Azure Subscriptions managed from single Azure Plan
Microsoft has introduced a new level into the Azure CSP billing hierarchy. This new level is the Azure Plan ID, which will be linked to an Azure customer / tenant. If you are an Azure CSP Partner and are reselling Azure services towards multiple customers, each customer cannot have more than one Azure Plan: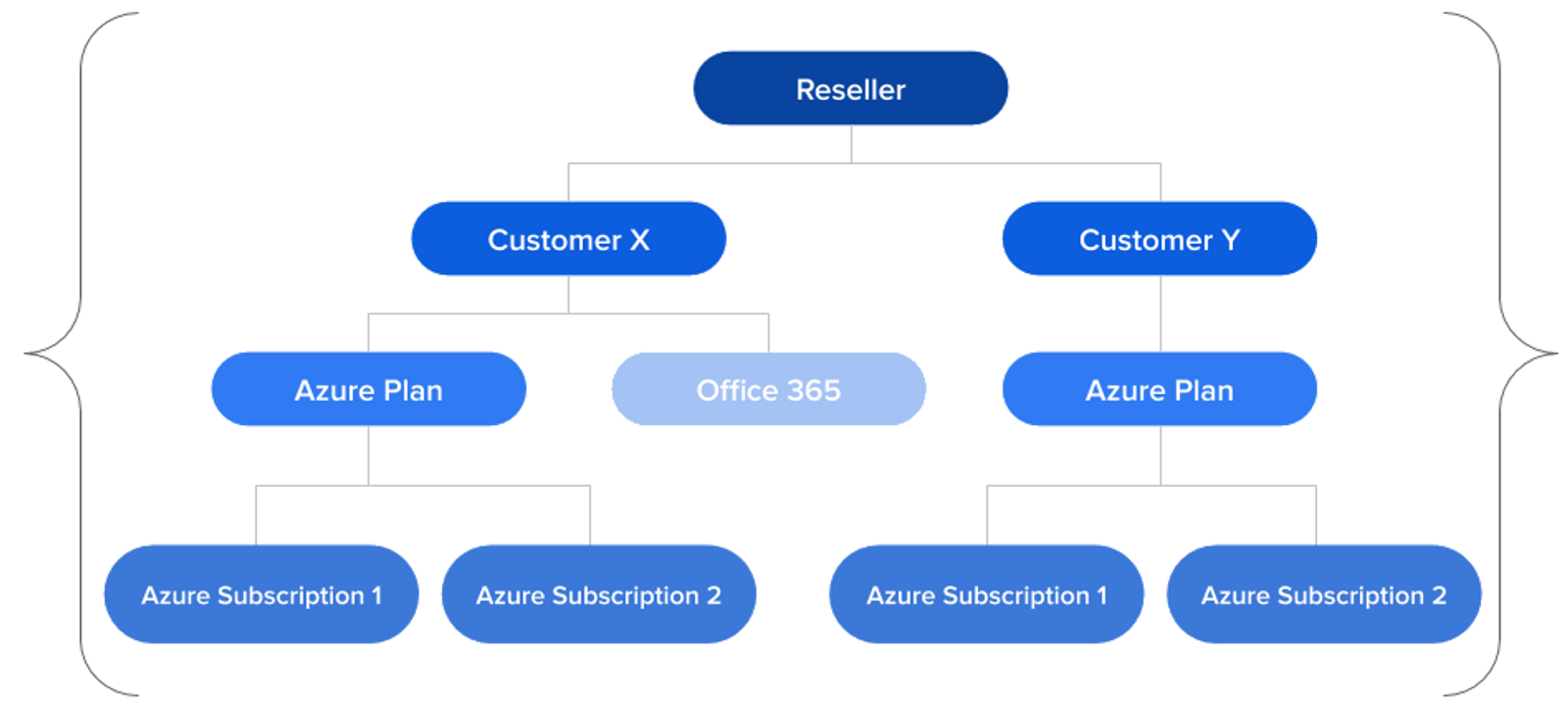 Under each Azure Plan, any given number of Azure Subscriptions can be created. This will allow a user to group costs per Azure Plan apart from grouping them per individual Azure Subscription.
#5 - Azure Plans aplies only to Usage Based Consumpion
Although Azure Plans is part of the Azure CSP program just like Office 365, it does not apply to support software, marketplace or seat-based pricing, such as Microsoft 365 or Dynamics 365. This means only consumption based usage inside Azure will take this new approach.
At the time of writing there is no definite statement whether and when Azure Plans is going to replace the legacy program. But it is to be expected that such an announcement will happen in due course. Should you require assistance with automating your Azure Plan billing process, feel free to reach out by filling in the form below. Exivity has templates available for all Azure brands to help you get started with automating your single bill of IT.